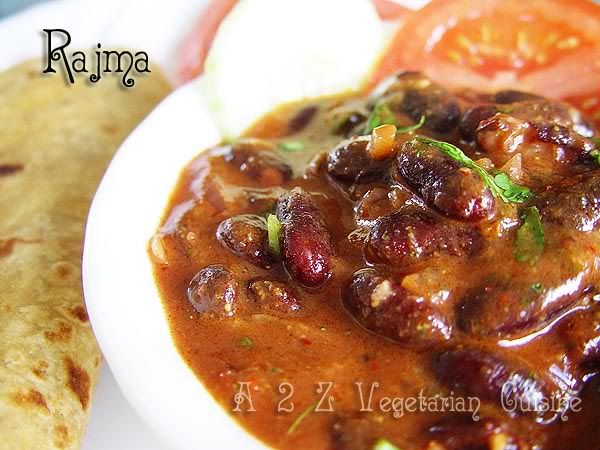 P
reparation time: 10 mins
Serves : 3 as side dish with Naan / Basmati Rice
Ingredients:
2 C Rajma (Red Kidney Bean), soaked overnight & boiled
1 - 2 Jalapeno or Serrano Chili peppers, finely chopped
1 Medium Tomato, thinly sliced
1 Medium Onion, thinly sliced
1 Tbsp each, Ginger & Garlic
2 tsp Garam Masala */ Store bought Rajma Masala
2 Tbsp Fresh Cilantro, chopped
1.. Heat oil in a large pot over medium-high heat. Add bay leaf and chili peppers. Cook for 1 minute. Add onion & cook until translucent. Add tomato and cook untill it begins to soften. Now add tomato puree, and cook until oil separates.
2.. Now add ginger, garlic & garam masala *. Cook and stir several minutes, add 3-4 tbsp of bean-water if needed.
3.. Add kidney beans, chili powder and cook for some time. In a bowl stir yogurt & salt (store bought rajma masala ) and pour in this mixture, cook for few more minutes while stirring continuously.
4.. Switch off the stove & stir in half -half, now garnish with cilantro and serve hot.


How to serve:

This dish can be served with Basmati Rice or Naan (indian flatbread). Add fresh spinach for more flavor & color.
* Garam Masala:

Garam masala means "warm or hot spice mixture", and that is exactly what this traditional Indian spice blend imparts to Indian dishes. For homemade garam masala, mix together 1/2 tsp ground cumin,1/2 tsp ground coriander,1/2 tsp ground pepper,1/2 tsp ground cardamom,1/2 tsp ground cinnamon, 1/4 tsp ground cloves. Toast the ground spices before using. (Makes: 1 Tbsp)

Event Participation:
JFI-Rajma

hosted by Divya
an event started by
Indira
.
This goes straight to

MLLA 16th Helping

,

event hosted by Jeanne of Cooksister,

created and administered by the lovely

Susan ofThe Well-Seasoned Cook.