Know What You Eat:
Lentils-A Fiber All Star
Check a chart of the fiber content in foods; you'll see legumes leading the pack. Lentils, like other beans, are rich in dietary fiber, both the soluble and insoluble type. Soluble fiber forms a gel-like substance in the digestive tract that snares bile (which contains cholesterol)and ferries it out of the body. Research studies have shown that insoluble fiber not only helps to increase stool bulk and prevent constipation, but also helps prevent digestive disorders like irritable bowel syndrome and diverticulosis. This dish is a special North Indian delight, cooked with butter, cream to make it look visually & tastefully rich, the recipe version below is low in fat. Try it, a sure hit..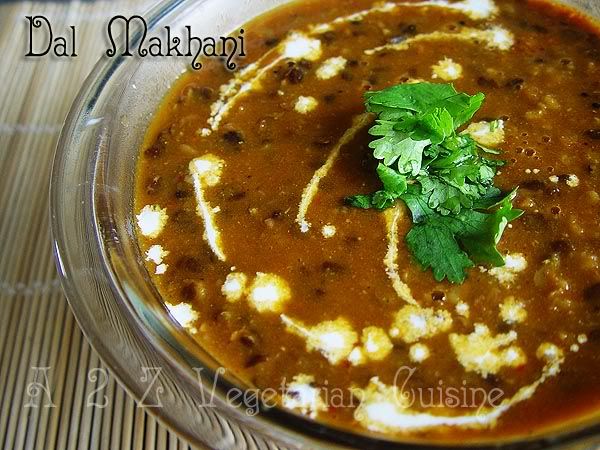 Preparation/Soaking time: 5 hours
1 C Black urad dal, boiled (split-black lentil)
few Rajma (red kidney beans) soaked 4-5 hrs & boiled
1 C Tomato puree / crushed tomatoes made into puree
2 Tbsp Fresh Ginger Garlic Paste
2 Tbsp Melted Butter / Ghee
1/2 C Low-fat Fresh Cream
Few pinches of Asafoetida
1.. Pressure cook black urad dal along with rajma upto 4 whistles or untill rajma is cooked.
2.. In a pot, on a medium flame, heat ghee, add cinnamon stick, bay leaf,cardamom, asafoetida, onions and cook untill it gets translucent. Now add tomato puree,ginger garlic paste and cook untill ghee is separated.
3.. Add boiled dal & rajma, then add salt, garam masala,red chili powder,coriander powder,cumin powder,sugar & left-over water from dal and bring it to a boil while constantly stirring it. Let it cook on a medium - slow flame for another 10 mins, as it will thicken itself. Add more water if needed to get the right consistency.
4.. Switch of the stove. Add fresh cream, palm -rubbed kasuri methi, and cilantro, and serve hot with Basmati Rice / Naan / Roti.
1. There is no need to soak dal overnight, as it gets cooked faster..dont forget to soak kidney bean tho.
2. Continuous stirring is required, else this dal tends to stick to the bottom of the pan.
3. The longer the dal gets cooked in this tomato gravy along with seasonings, the more flavorful it will be.
4. Remember to add fresh cream when you are just about ready to eat. The dal gets thicken as it gets cold..so make sure you add enough water when you switch off the stove, to get the right consistency.
* Garam Masala:

Garam masala means "warm or hot spice mixture", and that is exactly what this traditional Indian spice blend imparts to Indian dishes. For homemade garam masala, mix together 1/2 tsp ground cumin,1/2 tsp ground coriander,1/2 tsp ground pepper,1/2 tsp ground cardamom,1/2 tsp ground cinnamon, 1/4 tsp ground cloves. Toast the ground spices before using. (Makes: 1 Tbsp)
Now Its Award time:
Oct 09:

We got this award along with meme once again from two of our blogger friends. Thanks

Rohini
and

Uma

for passing on this award.

Pari

& Padma has passed across "over the top award". Really appreciate it. The rule of this award is to share it with 7 people, and this time we would like to pass this on to

Sanjana

,

Prasu

,

Gulmohar

,

Sandhya

,

Avishah

,

Chitra

,

Denufood
Event Participation: