Happy 4th Of July..to all our Fellow Blogger Friends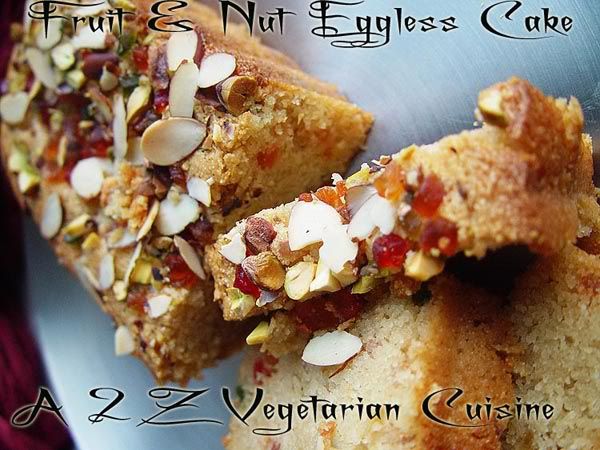 Its a re-post ....Guess???? Its our
150th Post
as well...in our journey of 3 months...of blogging, we never thought of reaching to our 150th post SO SOON...we were on and on posting everyday...its such a fun to have a whole huge of blogging fans, their comments, tips, events participations...visiting to equally good blogs for our everyday inspiration & creation...has become like a daily chore for both of us here at A2Z Vegetarian Cuisine, Co-author Sadhana has always proven to be a source of inspiration & lot of health information dictionary for me, and our blog, we discuss the topic & the research starts to come up with a healthy , delicious & lovely looking recipe along with the health info on it......To celeberate our 150th post & 4th of July 2009, I thought of baking cake, with all the different colors & flavours. Earlier, in our blog, I posted Mango Cake...the method is almost the same..but the ingredients used are semolina/rava & added dry fruits, tutty- fruitty, with pineapple essence. Try this recipe, its FULL PROOF, NO ERRORS, anyone can bake.
It yeild medium sized 8 cup cakes and med sized 8" square cake.
1-1/2 C of Semolina/Rava/Sooji ( fine variety ) No need to roast rava/ sooji.
3/4 C Ricotta Cheese (Part skim)
1/2 C Half & Half or regular whole milk should be fine too
1/2 C Butter (melted)
1/2 C Brown Sugar
2 tsp Baking powder
1/2 tsp of mixed fruit essence / pineapple essence
1/4 C chopped cashew & walnuts, raisins, silvered almonds
1 Tbsp of tutty-fruity
1. Take a mixing bowl, mix sooji/semolina/rawa, ricotta cheese, 1/2 & 1/2,butter, sugar & let it sit for 20 minutes.
2. Heat the oven to 375 degrees...After the resting period, mix thoroughly, at this time you can add more milk if the batter is too thick, as rava would have soaked up the liquid...
3. Now add chopped nuts, tutty-fruity, baking powder, essence, now mix it thoroughly, and then pour the batter in greased baking cake/muffin tray & place in the oven to bake for 20-25 minutes. Be careful and keep a close watch.
4. Check with a fork to see if properly baked. If the knife comes out clean remove immediately. 5. Allow to cool completely before serving.
Tip:
This cake can be used as a base for a fruit - yogurt / ice cream combo to make a delicious Sundae, I call it "Fruit Fantasy"..and everyone in my house waits for this dish to be made..ofcourse you dont need a meal before this dessert, as its a so filling.. Enjoy!!!!
Event Participation:
Goes to
Meeta
's
Monthly Mingle
.happening at
Aparna
's Diverse Kitchen
for hosting
High Tea Treats
...