Know What You Eat
: Many of them brag they have over 2 servings of your fruits and vegetables in just one serving. True, they may have used two or more servings of vegetables to make this drink, but how much actually makes it in?
Here is the ingredients list on the back of V8 100% vegetable juice
Ingredients: Tomato juice from Concentrate (Water, Tomato Concentrate), Reconstituted Vegetable Juice Blend (Water and Concentrated Juices of Carrots, Celery, Beets, Parsley, Lettuce, Watercress, Spinach), Salt, Vitamin C (Ascorbic Acid), Flavoring, Citric Acid.
Minus the salt and artificial flavors not bad right? Maybe, but keep in mind that during the processing of this juice they have to pasteurize it, killing off a whole bunch of the potential vitamins and nutrients from those vegetables.
The one thing these liquid veggies are missing that makes real vegetables so much better is fiber. They have to take it all out, otherwise you'd be sucking back veggie sludge (yum!). The fiber is key to healthy eating:
1) because many of the nutrients we get from vegetables are embedded into it
2) because it's what helps us feel full
3) It helps keep blood sugars and cholesterol lower
Vegetables are great because they are loaded with fiber which fills us up without filling us out. How filling is a glass of garden cocktail versus a huge salad?
And let's not forget the 480mg of salt per serving as well (some cocktails will have as much as 650mg depending on the brand!)
Salt in the plain veggies? Not so much.
See my point? So if you think you can drink your vegetables please take the palm of your hand and forcefully strike yourself in the forehead...it'll do you as much good as the juice.

Lets talk recipe here now, Mix Vegetable Tomato Soup can be made in several different ways and is liked by everyone. What I have in here, lets make a note..
Ingredients:
7-8 Ripe Tomatoes
1/2 C Shredded Cabbage
1/2 C Shredded Beet Root
1 Tbsp Finely chopped Scallions (Green onion)
1/2 C Shredded Carrot
1 Tbsp Chopped Cilantro
Water As needed
Salt to taste
1/4 tsp Black Pepper powder
Few Whole wheat croutons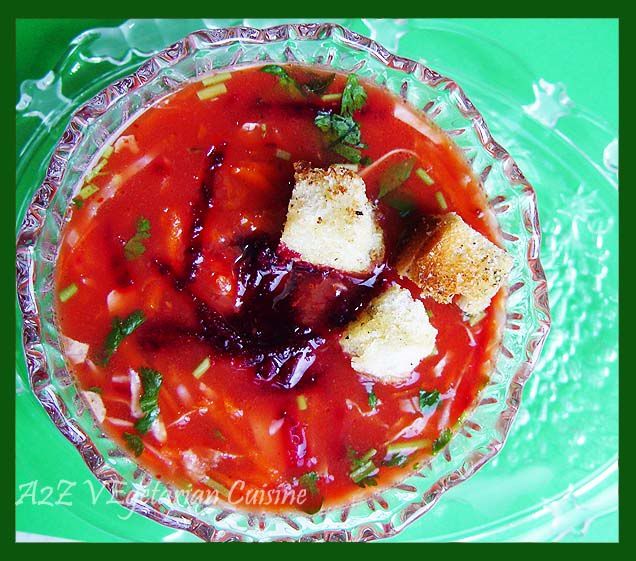 Method:
Pressure Cook raw tomatoes, peel skin and blend in a blender, I sometimes add carrot and spinach along with tomatoes, pressure cook and blend them together.
Pass it through a strainer to remove excess pulp (if you like that way).
Add 1 cup of filtered water to this pulp, and bring it to boil.
Now add salt, black pepper powder.
Add half of all the shredded vegetables and cook for another 3 -4 mins.
While serving add the rest of these veggies in separate bowls and pour hot tomato soup on it wish some croutons...Enjoy!!!