Know What You Eat:
Simple Tasty and Filling...Spinach and Red bell pepper pasta, is easy and fast to cook, with ingredients we all love, you can incorporate sun dried tomatoes to this recipe, and / or addition of Feta cheese would totally make this super yummy and extremely kid friendly.Use of whole grain pasta for even a healthier dinner idea.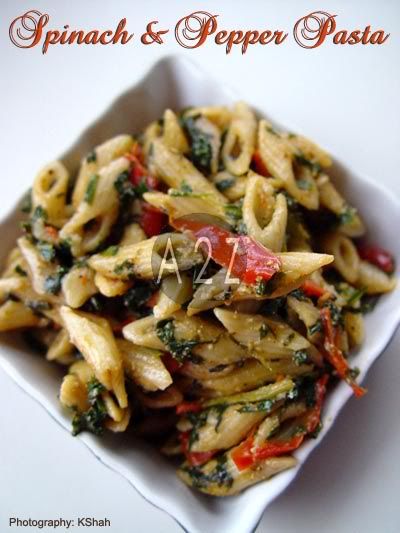 Ingredients:
2 C cooked whole grain Penne pasta
1/2 medium Onion; chopped
3 cloves Garlic; minced, more or less to taste
2 Tbsp Olive oil
1 tsp dry Basil; (or 2 Tbsp fresh, chopped)
1 medium Red bell pepper; or yellow or green pepper, cut into strips
10 ounces Fresh spinach; coarsely chopped
1 tsp Salt; or to taste
Freshly ground Pepper to taste
Rennet free Parmesan cheese; to taste (optional)
Preparation:
Cook the pasta and drain as per your packet information.
Heat the oil over medium high heat, and cook the onion, garlic and basil until the onion is tender.
Add the pepper strips and cook for 3 minutes longer.
Stir in the spinach. Heat for another minute, until warmed through.
Toss with the pasta, and add salt and pepper.
Top with | without Parmesan cheese (leave out for vegan version).