Know what you Eat: Mangoes are high in prebiotic dietary fiber, vitamin C, polyphenols and provitamin A carotenoids.[11] Mango peel also contain other phytonutrients, such as the pigment antioxidants – carotenoids and polyphenols.If you want more vitamin C, try eating a raw mango rather than a ripe one. The fiber content in mangoes is also higher than other fruits.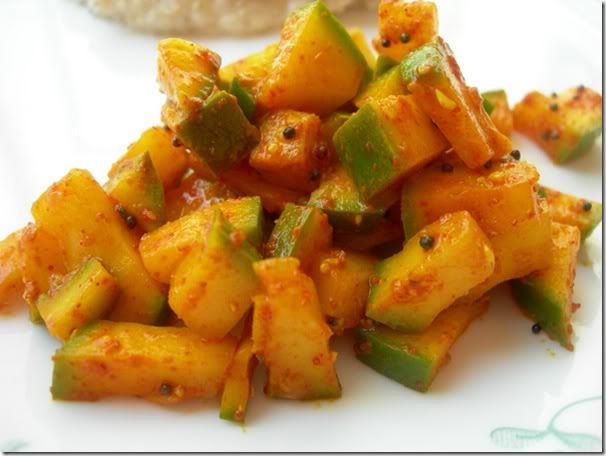 Ingredients:
Raw mango – 1 (Chopped into small pieces)
Red Chili powder – 2 tsp or to taste
Methi/Fenugreek/Vendhayam seeds – 1 tsp
Asafoetida powder – 1/2 tsp
Method
1) Dry roast fenugreek seeds till you get a slight aroma and changes dark brown in color(do not allow it to become black) and keep it aside.
2) Once the fenugreek seeds are cooled, powder them in your food processor to a coarse powder.
3) Add fenugreek powder, salt, red chili powder, turmeric powder, asafoetida powder to the raw mango and close the container and shake so that all the mango pieces are evenly well coated with the added spices.
4) Heat oil in a small pan and once it is hot add the mustard seeds, once they stop spluttering transfer the contents to the cut mango container. Mix well and leave it for 4 to 5 hours so that all the flavors marinate well.
Note – This pickle will be good for 4-5 days, but can't be kept for a longer time.