K
now What U Eat:

Sesame seeds contain two unique substances: sesamin and sesamolin. Both of these substances belong to a group of special beneficial fibers called lignans, and have been shown to have a cholesterol-lowering effect in humans, and to prevent high blood pressure and increase vitamin E supplies in animals. Sesamin has also been found to protect the liver from oxidative damage. For now enjoy these sweet stuffed sesame paratha freshly made and served warm, good for little fussy eaters and a sweet treat for all the rest. It goes directly to Priya's CSW- Sesame.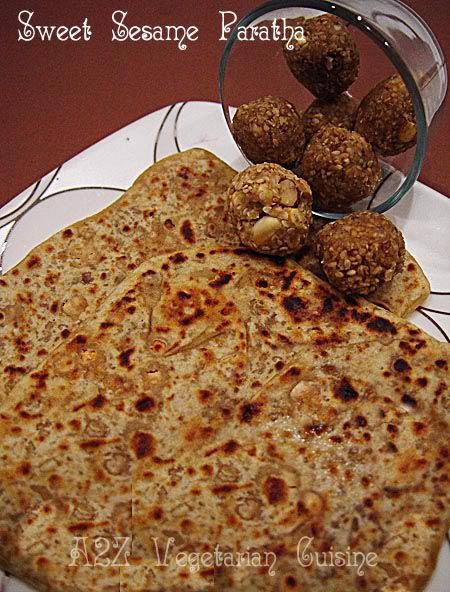 1/2 C Brown Roasted Sesame seeds
1 Tbsp Roasted Peanuts, coarsely powdered
1 Tbsp Roasted split chana daal, coarsely powdered
1 Tbsp Dry Coconut, powdered/shredded
2 Tbsp Ghee/Clarified butter
Ingredients for Paratha/ Flat Bread dough:
1 Tbsp warm canola/olive oil
1. Roast the sesame on a pan until light brown, keep them aside.
2. In the same pan roast split pea & peanuts, when cool, grind them in coffee grinder.
3. In the same pan roast the gram flour for about 2 mins. Keep aside.
4. Now add warm ghee to grated jaggery and mix all the above ingredients together to make a soft and mouldable mixture.
5. Grease your hands with oil/ghee and make small balls of stuffing and keep them aside.
For the flat bread dough:
1. Mix flour, oil. Slowly add little water and make a firm dough. The dough should not be too soft but more on a firmer side.
2. Divide the dough in small equal balls.
Roll in the stuffing:
1. Then roll out each ball into a not too thin disc or a chapati on a floured board. Like 3 " in diameter should be fine.
2. Spread the above prepared jaggery & sesame mixture on one round chapati and cover with same size another round chapati. Seal the edges nicely, or else the jaggery will ooze out during cooking and will make the entire thing quite messy....sprinkle a little dry flour on top, then roll out the paratha as thinly and as round as you can, being careful not to break it.
3. Grease a smoking tava or a griddle with ghee and place the paratha over it, keep a watch turnover when its little golden brown in color, apply ghee on the top and turn over.
4. Press gently and spread some ghee over this side too.
5. Keep turning untill parathas turn golden brown or done.
6. Similarly make the rest of the sweet sesame parathas. Serve this paratha warm.