Simple, yet authentic was the thought for this year's Maha-Shivratri festival, celebrated differently by everyone, to some its fasting to some its mere a offering.. So ended up in making this super delicious sooji halwa/ Semolina Pudding, or "Rava No Shiro"not something to eat in fasts, which many people observe on this day. Its one of the handy, super easy and quick to make semolina pudding for any occasion in my house and is liked by everyone. Just quick roasted semolina with clarified butter, added some nuts, sugar and cardamom powder ..its that easy. I offered and served it with ample of fruits, like banana, apple, strawberry, peach..so we get a nice prasadam feeling, just like we have it in any Satyanarayan maha pooja..Just love that holy taste. For now enjoy this easy to make Sooji Halwa.
Sending it to
Nivedita's
Celebrate Sweets- Halwa Event.
Ingredients:
1 C Sooji/Rava (Semolina)
3/4 C Ghee (Clarified Butter)
1/2 + 1Tbsp Sugar
3/4 C Almonds, Broken Cashew, Yellow raisin,Charoli nuts
1/2 C Milk + 1/2 C Water
1 tsp Green Cardamom powder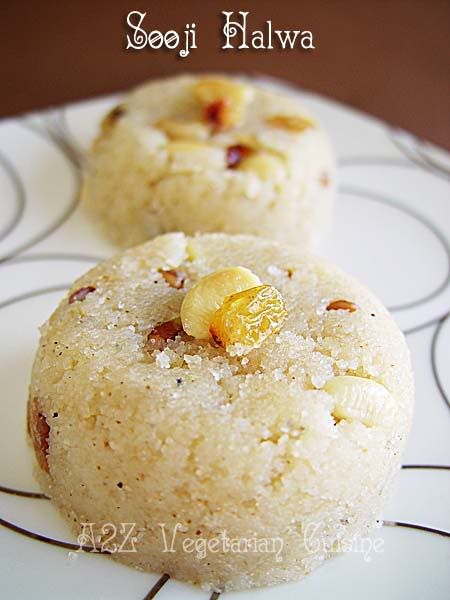 Method:
1. In a thick bottom pan, heat ghee, add cashew, raisin, charoli & semolina; roast till it changes to pinkish brown in color, and emmits nice aroma.
2. Now add sugar & milk; stir a bit, now cover the lid to cook untill the water/milk has evaporated or the halwa thickens, about 5-7 mins.
3. Once cooked, add green cardamom powder and stir to mix well.
4. Add one tablespoon of ghee to finish off. Garnish with reserved almonds/nuts and serve hot.