Re-post ....This particular pinwheels starters were super hit, infact one of my cousin skipped the following dinner, he was so much in love with these very easy super quick healthy wraps...I mean just guess whats the dinner when you have such fancy wraps to hog around...lol...Wraps or Pinwheels ...you can make either of it..Its an excellent after school / anytime healthy snack, here's how I made it.
Preparation time: 10 mins
Cooking time: 7-10 mins
Serves: 2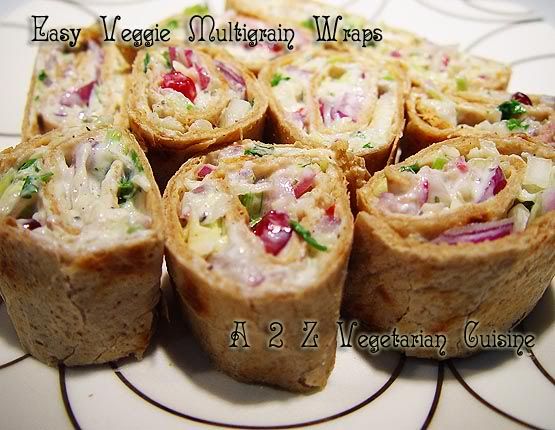 Ingredients:
4 Multi-grain Flour tortillas (no lard)
2 C Cabbage, shredded
1 C Carrot, shredded
1/2 C Bell pepper, thinly sliced
1 red onion, thinly sliced
2 Tbsp Pomegranate
2 Tbsp fresh/canned pineapple, diced small
1 C Greek Yogurt
1 Tbsp Hummus ( sundried tomato flavored)
2 tsp Tahini sauce
1 Tbsp feta cheese, any flavor (rennet free)
1 Tbsp salad dressing of your choice (I used vinegar + olive oil + dried red chili flakes)
Salt & freshly crushed pepper to taste
Method:
1. Tie yogurt in a muslin cloth to remove excess water. Once done, in a bowl mix in cabbage, carrot, bell pepper, onion, pomegranate, pineapple, tahini sauce, feta cheese, salad dressing, salt & pepper, and yogurt...mix it very well..
2. On a hot griddle, roast multigrain flour tortillas, both sides, with or without butter / olive oil...I did not used either of it, still tastes very well..remove from griddle and place it in a plate.....Now apply hummus evenly on this tortilla, along with good quantity of easy veggie mixture you just prepared. Roll it nice & enjoy it warm or cold....You could also cut it into pinwheels..for awesome starters in a party. see the picture.