Sore throat is the inflammation of the throat
, which is mainly caused due to cold, flu, or infections. A person suffering from sore throat feels as if someone is scratching the insides of the throat with a brush. Swallowing is hard and there is constant irritation. Though the ailment runs its course in a few days, still it is very tough to bear without any medication. Throughout the world, millions of sore throat sufferers line up to the doctors every year. If the sore throat persists for a long duration then it is better to seek medical help. Various studies have shown that prolonged sore throat can be a sign of some other serious illness. Managing sore throat through the duration that it stays, is very easy and there are a number of herbal remedies available. These remedies give relief from the pain and irritation and also do not have any side effects that tag along with medicines. In the article below are given some herbal remedies to cure the sore throat.
Soonth Gud:

"Dry ginger & Jaggery balls with some turmeric", this special remedy is used for people suffering from sore throat & cough due to cold. Turmeric & salt loosen the mucus, while butter helps to glide it down in stools. There are several different diseases & problems mentioned below, with respective compounds used which may treat them, when consumed on a long term period.
Pipramool

- A root of long Pepper (A close relative of black pepper) One of the wonderful, warming roots is used in cold conditions, such as osteoarthritis. It also finds use for anorexia, constipation, anemia, body ache, coughing and breathing problems, pharyngitis and vertigo. Available in most of the Indian Grocery stores in US. OR can be bought online. I googled for online store and found few..here is one of them.
Dry Ginger Powder:

(Zingiber officinale) Ginger is used in Asian medicine to treat stomachaches, nausea, and diarrhea. Many digestive, antinausea, and cold and flu dietary supplements sold in the United States contain ginger extract as an ingredient. It has been used for rheumatoid arthritis, osteoarthritis, and joint and muscle pain.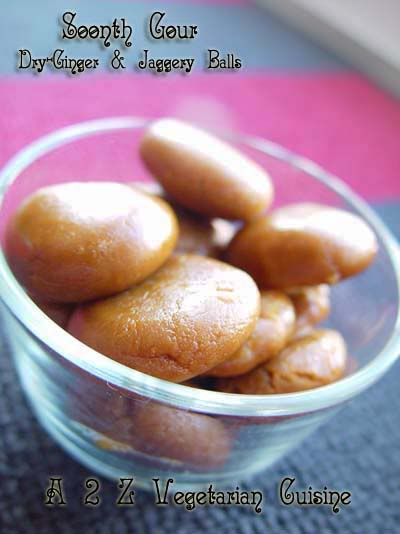 Serves / Makes : 12 small jaggery-ginger balls.
1 C Jaggery made into powder
1 tsp Pipramool powder (optional)
or 1/4 tsp Black Pepper powder
1. Heat jaggery in a pan until it melts, now add ginger powder, turmeric powder, salt and finally clarified butter...mix it well, and cook untill you see bubbles coming out of the whole mixture..then turn of the flame off, let it cool a bit, divide into equal portions with a help of a spoon, gently roll it into bite sized balls. Store it into an air tight container. It can be made and kept for future use in to consume within 5- 15 days.
Reason for which the remedy is prepared: Soonth Gud: "Dry ginger & Jaggery balls with some turmeric", this special remedy is used for people suffering from sore throat & cough due to cold & lot of mucus. Turmeric & salt loosen the mucus, while butter helps to glide it down in stools...Thus helps as best homemade expectorant as well. Sucking these tablets, keeps the throat wet, hence stops irritation and excessive coughing.
Oral consumption or topical application: Oral Consumption (3 small tabs a day, kids 2 tabs)
For whom Kids / Adults / ALL / Specific Gender: For Everyone
Can prepare fresh / made in advance for consumption in 5- 15 days.
Some More Sore Throat Cure With Herbal Remedies
:
Lemon Juice And Honey
Take a glass of warm water and squeeze a lemon into it. Add one tablespoon of honey and stir properly using a spoon. Drink this at least twice a day to get relief from soreness of the throat. Another method is to cut a lemon into slices and then adding a pinch of salt and pepper to it. Make the salt and pepper penetrate the lime by squeezing it lightly. Take care not to drop the juice. Suck on this lime slice. Doing this at least three times a day gives immediate relief for sore throat.
Cayenne Pepper
In a cup of hot water add one-fourth teaspoon of cayenne pepper and stir. Drink this to cure sore throat.
Ginger is perhaps the most effective and widely used remedy to cure sore throat. Chew thin slices of ginger for immediate relief. You can also prepare tea using crushed ginger and drink it throughout the day. Another method is to grind the ginger and take out the juice. To it mix a teaspoon of honey and drink it.
Fenugreek (Methi)
In a liter of water, add two tablespoons of fenugreek seeds. Put this and leave it to simmer for about half an hour. Strain and keep it for cooling. Use this water to gargle.
Holy Basil
Holy basil is very effective in curing sore throat and cough. Crush around ten basil leaves and add it to a cup of water. Keep it for an hour and then strain. Drink this three to four times a day until the soreness is cured.
Mix one teaspoon of salt in a glass of warm water and gargle your throat. Do this every hour for immediate relief.
Take a glass of warm water and add a teaspoon of bishop's weed and a pinch of salt. Use this solution to gargle until the soreness disappears.