Weather is just getting perfect for soups like this..Vegetable Manchow soup is our family's favourite among different soups I make, where it becomes just perfect to have most of the veggies..with very little cornflour, just enough that it looks almost looks more clear than thick...Enjoy this perfect winter & health treat..
MSG is it safe for you ? Your opinions/ suggestions/pros-cons welcome..
Most of us know Monosodium glutamate (MSG) is a flavor enhancer commonly added to Chinese food, canned vegetables, soups and processed meats. Although the Food and Drug Administration (FDA) has classified MSG as a food ingredient that is "generally recognized as safe," the use of MSG remains controversial.

MSG has been used as a food additive for decades. Over the years, the FDA has received many anecdotal reports of adverse reactions to foods containing MSG. But subsequent research found no definitive evidence of a link between MSG and the symptoms that some people described after eating food containing MSG. As a result, MSG is still added to some foods. A comprehensive review of all available scientific data on glutamate safety sponsored by the FDA in 1995 reaffirmed the safety of MSG when consumed at levels typically used in cooking and food manufacturing. The report found no evidence to suggest that MSG contributes to any long-term health problems, such as Alzheimer's disease. But it did acknowledge that some people may have short-term reactions to MSG. These reactions — known as MSG symptom complex — may include: Headache, sometimes called MSG headache, Flushing,Sweating,Sense of facial pressure or tightness,Numbness, tingling or burning in or around the mouth, Rapid, fluttering heartbeats (heart palpitations),Chest pain,Shortness of breath,Nausea,Weakness,Symptoms are usually mild and don't require treatment. However, some people report more severe reactions. The only way to prevent a reaction is to avoid foods containing MSG. When MSG is added to food, the FDA requires that "monosodium glutamate" be listed on the label — or on the menu, in restaurants. Please let us know about anything you might know about MSG..which could be beneficial to our readers...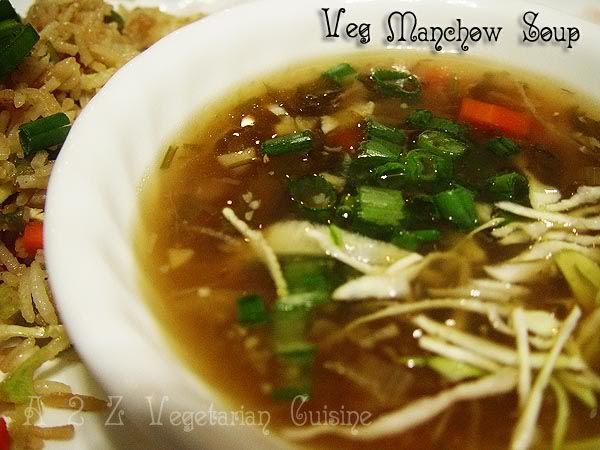 Ingredients:
1 Tbsp Canola Oil
2 Tbsp fresh garlic, finely chopped
1 Tbsp fresh ginger, finely chopped
1 green chilli, finely chopped
2 C spring onions, finely chopped, set aside white & green separately
5 C Vegetable stock/water
2 C mixed vegetables (carrot, bellpepper, french beans,cauliflower & cabbage), finely chopped
1 Tbsp Ming's dark soya sauce
1 Tbsp red chilli sauce/ OR Tomato ketchup & avoid adding sugar
1/4tsp sugar if using red chilli sauce
2 Tbsp cornflour (thickening agent)
1 Tbsp vinegar/ fresh lemon juice
1/2 C coriander, chopped
2 pinches of black pepper powder
Noodles can also be added, just boil it, deep fry when cold. (optional)
Salt to taste
Method:
1.. Heat oil in a pot. Add ginger, garlic, green chilli and spring onion the whites & black pepper powderfor approximately 2 mins.
2.. Add vegetables then the stock/water,now add salt and bring to a boil. Add soya sauce,chilli sauce, sugar, and simmer for 4-5 mins.
3.. In a cup mix cornflour in 2-3tbs water mix it well, avoid any lumps, now add this mixture to soup. Let it cook untill it gets slightly thick.
4.. Remove from flame, now add vinegar and garnish with spring onion greens,fried noodles and serve hot with

Vegetable Chinese Rice.