Know What you Eat:
K
idney beans are a very good source of protein, cholesterol-lowering fiber, very good source of folate, manganese, thiamin (vitamin B1), phosphorus, iron, copper, magnesium, potassium and vitamin K. In addition to lowering cholesterol, kidney beans'
high
fiber content prevents blood sugar levels from rising too rapidly after a meal, making these beans an especially good choice for individuals with diabetes, insulin resistance or hypoglycemia. Kidney beans are an excellent source of the trace mineral, molybdenum, an integral component of the enzyme sulfite oxidase, which is
responsible
for detoxifying sulfites. Just one cup of cooked kidney beans supplies 177.0% of the daily value for molybdenum.

Brown Rice: Brown rice is good source of complex carbohydrate. It provides 15 essential nutrients, including B-vitamins, niacin and potassium. Brown rice is a very good source of selenium, which is essential for thyroid hormone metabolism and immune function.

Oats:

A daily serving of whole oats rich in soluble fibre can reduce hypertension, or high blood pressure, and so reduce the need for anti-hypertensive medication. Nearly 1 in 3 American adults has high blood pressure. It usually has no symptoms, but can cause serious problems with the heart and blood vessels, leading to other complications.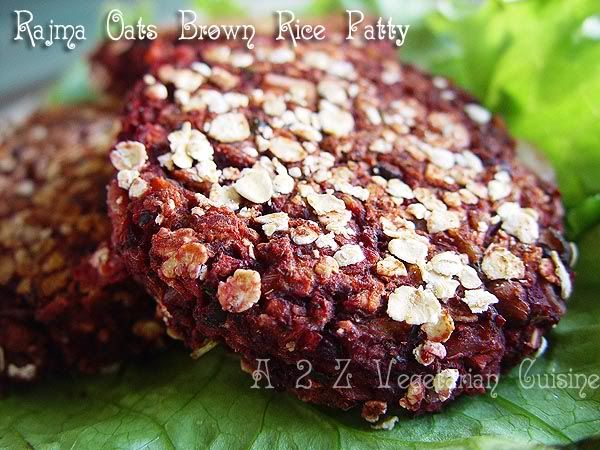 Preparation time: 10 mins
Cooking time: 20 mins
Makes 8 med.sized patties
Ingredients:
4 C Rajma, boiled & mashed (Red Kidney Beans)
1 C Brown Rice, Cooked
1 C Beet root, boiled & shredded
1 C Quick cooking Oats + 1Tbsp to coat
1 C Mixed vegetables, chopped or shredded ( carrot, cabbage, onion)
1 tsp Green Chilli, finely chopped
2 Tbsp Coriander, finely chopped
1/2 tsp Fresh Ginger, finely chopped
1 tsp Garam Masala (mix. of cinnamon,blackpepper,cumin,cloves,dry mango powder etc)
Salt to taste, use bread crumbs if needed.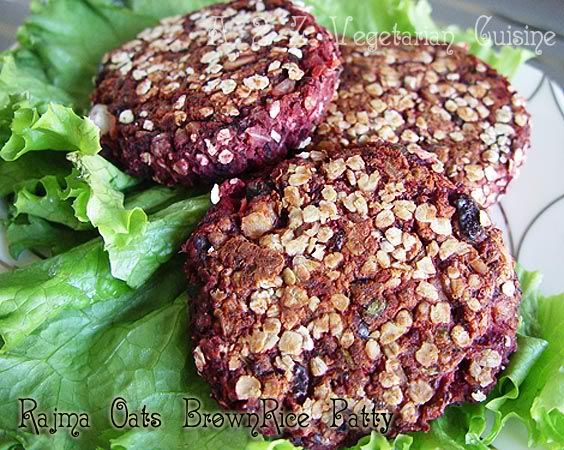 Method:
1.. In a bowl mix all the above ingredients, mash coarsely, and make 8-10 equall size balls, pressing them slightly to make the shape of a patty/disc shape.
2.. In a dish spread some quick cooking oats to coat the outerside of each patty.
3.. Now in a iron/non-stick skillet, spray cooking oil, and cook untill light golden brown adding a teaspoon of oil if needed on both the sides of this patty.
OR
4.. Pre-heat oven to 350F& transfer the patties to a parchment-lined baking sheet and bake until golden brown, about 10 minute on each side and then broil for 5 minutes till the patty is well baked.

Enjoy these delicious & healthy patties with your favourite bread & salad. Have it for breakfast, lunch or as a guilt free snack too.
Note: Remember you are adding all the ingredients which are already cooked..so do not over cook in the oven, or it will start to fall apart.


Event Participation:
JFI-Rajma

hosted by Divya
an event started by
Indira
.
Kids Delight
hosted by Srivalli.
Madhuram's

Whole Grain Baking Event- Oats

for October 09
Srilekha's "
EFM-Oats Series
" event.